Quality and sustainability
Mowi Lemmer  ensures top-quality fish products.
We supply high-quality products that fulfil our customers' wishes and comply with the strictest food safety standards: Our company has been certified according to the IFS standards for many years .
The IFS standards are among the strictest standards in the food industry and are adapted and updated regularly, based on the latest insights and developments. The IFS Food Standard is supported by e.g. the German, French and Italian associations of  food retailers and distributors and is recognised by the Global Food Safety Initiative (GFSI).
Independent certification bodies perform annual audits to verify compliance with the IFS standards.
Mowi Lemmer complies with the highest level of IFS certification: IFS 'higher level'.
Our IFS certificate can be downloaded here.
ONE Mowi: Mowi's global Operational Excellence programme
ONE Mowi is our Operational Excellence programme. It includes the global Mowi policies, standards and operational procedures that ensure that we operate in a responsible and consistent way throughout the company with regard to our responsibility for society, animals, nature and the environment as well as our employees.
ONE Mowi includes policies and operational procedures for all Mowi business areas: Feed, Farming and Sales & Marketing, and relate to Mowi's four guiding principles: Planet, People, Product and Profit.  The documents and procedures in ONE Mowi are continuously being updated with new and improved processes and procedures, with regard to:
Quality assurance
Food safety
Food quality
Animal welfare
Environmental responsibility
Social responsibility
Quality assurance
Our quality assurance is based on a worldwide quality management database that contains all ONE Mowi standard operating procedures. These procedures provide guidelines on how to act and how to reach decisions with regard to each of the strategic pillars of ONE Mowi. They enable us to maintain the same high standards throughout the entire Mowi organisation.
Food safety
Mowi is committed to providing safe and documented food products. All our activities are designed to safely produce our food products and to protect their safety as well as the safety of our employees. Our safety culture is underlined by our 'BrainSafe' safety programme in which all our employees are trained and to which constant attention is paid at the workplace. We also continuously monitor and safeguard the safety and integrity of our products. We regularly align our way of working with the most recent scientific insights and best practices and make sure we comply with the current laws and regulations of the countries where we manufacture and sell our products. Mowi Lemmer has been certified for many years according to the strictest food safety standards of IFS.
Food quality
Mowi Lemmer supplies food products with a high quality, both technically and nutritionally, in order to fulfil the needs of our customers as well as consumer expectations. As to their technical quality our products comply with the agreed specifications. With regard to their nutritional quality we ensure that our fish and fish products are good sources of high-value proteins, important minerals, vitamins and omega-3 fatty acids.
Sustainability
Mowi Lemmer highly values the efficient production of safe, healthy and tasty food. This is needed to be able to feed the ever increasing population around the globe while at the same time taking care not to deplete the planet's natural resources, which are of the utmost importance for the survival of fauna and flora, as well as mankind.
According to research done by the Food & Agriculture Organization of the United Nations  (FAO) the world's population will increase to close to 10 million people by 2050. This growth will be accompanied by an increase of the standard of living which will enable more people to eat more protein-rich food such as meat, eggs, milk and fish. These combined developments are expected to result in doubling the worldwide demand for food by 2050.
The most important challenge facing global food production is the limited availability of natural resources, such as production areas, fresh water and energy. At the same time the emission of greenhouse gasses will also have to be reduced.
Leading the Blue Revolution
The best opportunity to fulfill the increasing demand for healthy and sustainable food lies in the oceans. 70% of the globe is covered by water, but only 2% of the worldwide food supply comes from the oceans.
Yet we have to take into account that these resources are not limitless. If we want to make sure that future generations will also be able to enjoy delicious fish we need to invest in sustainable fisheries and aquaculture: That is why Leading the Blue Revolution is Mowi's vision.
Fish is one of the most efficient animal protein sources: It takes much less feed to produce 1kg of edible fish than is needed to produce the same quantity of meat. The carbon footprint of fish is considerably smaller than that of meat.
Environmental responsibility
Mowi minimizes the environmental impact of its activities and operates in harmony with the environment, by taking care not to deplete natural resources and not to use any materials or substances that may cause a lasting impact. Mowi Lemmer has its own water purification facility, which purifies all the water used for production and cleaning before it enters the sewer system, so that the water that leaves our factory ends up in the sewer as cleanly as possible. Our factory in Lemmer is insulated in such a way that virtually no ambient noise is produced. Further reduction of energy consumption and of our carbon footprint is also an explicit objective of Mowi Lemmer. Our installations are regularly inspected and certified.
Sustainable fisheries and responsible aquaculture
By far the largest part of the fish species that are processed by Mowi Lemmer are from MSC certified sustainable fisheries or from ASC certified responsible aquaculture. Our product range offers a large number of products which have been certified according to independent standards for responsible aquaculture and sustainable fisheries, such as ASC and MSC.
MSC – the Marine Stewardship Council - is an independent ecolabel which ensures that the fish has been caught sustainably. MSC's objective is to protect oceans and safeguard seafood supplies for this and future generations.
ASC – the Aquaculture Stewardship Council – is an independent label for responsibly farmed fish, shellfish and crustaceans. Fish with the ASC label comes from farms that limit their impact on water and the environment, take good care of their employees and take the interests of the local communities into account.
Mowi Lemmer committed itself to have all its salmon farms ASC certified by 2025, and is well underway to achieve this.
Next to the ASC certified salmon from Mowi's own salmon farms we can offer top-quality sustainable fish products from our worldwide sourcing network.
To ensure and further improve the sustainability of our sourcing we developed several sustainability programmes in cooperation with our suppliers. These start with an internal assessment by our procurement department on the basis of a supplier manual and may be followed by an external assessment on the basis of third-party scientific research.
When selecting and choosing products our focus is on sustainable fishery and aquaculture methods and on safeguarding biodiversity. To achieve this we actively cooperate with a network of suppliers, customers, researchers and universities at home and abroad. This way we aim to make an active contribution to new environmentally and socially sustainable developments.
Mowi Lemmer has 'chain-of-custody' certificates for ASC, GLOBALG.A.P. and MSC, which ensure that the products we sell with one of these labels are really coming from certified responsible farms or certified sustainable fisheries.



Animal health and welfare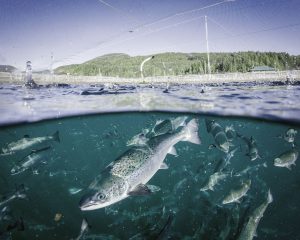 Good health management and husbandry practices are at the basis of fish welfare. We make sure that the living conditions of our fish are in accordance with their biological needs and that the chances of stress, aggression and wounds are minimalized. We continuously monitor the health status of our fish and act immediately in case this is compromised.
Sustainable palm oil
The palm oil we use in some of our products comes from RSPO certified palm oil productions.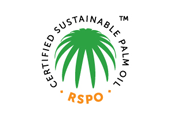 RSPO stands for 'Roundtable on Sustainable Palm Oil'. This is a not-for-profit organization with over 3,000 members worldwide, all of which support the importance of sustainable palm oil production: palm oil producers, processors and traders, consumer goods producers, retailers, banks & investors, and environmental and social justice NGO's . The RSPO developed a set of environmental and social criteria that companies must comply with in order to produce Certified Sustainable Palm Oil (CSPO). The correct implementation of these criteria helps to minimize the impact of palm oil production on the environment and on the local communities in palm oil production areas.
The members of the RSPO commit to produce, source and/or use RSPO certified, sustainable palm oil.
Our RSPO membership and certificate underline that the palm oil we use comes from sustainable palm oil production.
Social responsibility
One of our guiding principles is 'People'.
Protecting the safety, health and human rights of our employees is a core value for Mowi. We want to offer our employees safe and meaningful jobs.
In order to successfully operate and maintain good relations with the local communities in which we work the safety, self-respect and personal pride of our employees may never be compromised.

We find it important that also the companies from which we source our fish take care of their employees and respect their rights. This is illustrated by our compliance with the SMETA (Sedex Members Ethical Trade Audit) 4-Pillars criteria.
SMETA 4-Pillars was developed by the AIM (Association des Industries Marque) to go further than the criteria of the standard SMETA-audit, one of the most widely used ethical audit formats in the world.
SMETA 4-Pillars is a common audit model that emphasizes environmental and business integrity.
SMETA 4-Pillars has been approved by the members of AIM Progress, a growing group of consumer goods producers. The SMETA 4-Pillars methodology uses the ETI code and local legislation as their benchmark and consists of 4 modules:
Health and safety (ETI)
Labour standards (ETI)
Environment
Business ethics
The 'Letter of Confomity' shows that we comply with the SMETA 4-Pillars criteria.